This post is my little contribution to Emilie Wapnick's #failweek. I believe that every failure is an education, and that the bigger you fail, the more you learn. In today's post, I'll tell you how my first serious adventure earned me an M.A. in epic failure.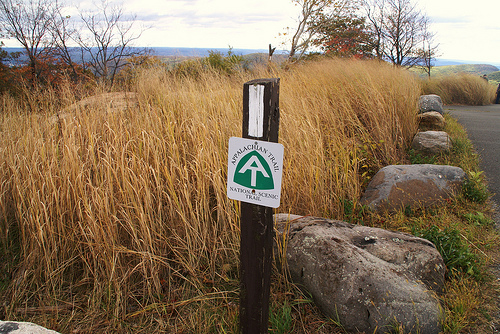 In both 2004 and 2005, I attempted and failed to complete two northbound thru-hikes on the Appalachian Trail. For the uninitiated, a thru-hike is an attempt to walk the 2,181 mile trail from Georgia to Maine in a single season. This hike takes between four to six months and usually costs about $3,000 to $5,000. Each time, I saved for months in advance, packed up my house, threw my stuff  in storage, and struck out for the southern backwoods.
About 80% of people who start thru hikes end up dropping out, a vast majority in the first two weeks.
I knew the odds were against me, but hubris, ambition and pride propelled my plan forward.
On my first attempt, I lasted just over four weeks before deciding to go back home. The second, I managed to trudge on for two months before throwing in the proverbial towel, mentally defeated but in the best physical condition of my life.
During these two attempts I covered approximately 34% of the trail.
Why did I fail not one but two thru-hike attempts?
The trail is damn hard, physically and mentally. Physically I was thriving; my body liked the daily walking, and once I learned about ultralight backpacking, I could easily walk 25 miles a day. After a few weeks, however, the monotony of the 'green tunnel' had started to do funny stuff to my mind.
I lacked the stubbornness and determination to walk 2000+ miles through the woods.
Even though I had plenty of money saved, I grew frustrated that I was neither doing 'useful' work nor earning an income. (I've since redefined 'useful' work. Fodder for a different post).
I didn't learn enough from my first failure. Yes, for the second trip I reduced my pack weight by 67%, but I still didn't know myself well enough to understand my own limitations.
I was always thinking about the future, the vista just over the next ridge, rather than just enjoying the moment I was in.
What did I learn?
How to  plan trips. This vital skill has taken me to just over 20 countries on 3 continents.
How to face the unknown with nothing but a field guide and a pocket knife.
How to camp like a champ. I don't talk about it much here, but I love camping. Beneath a tarp, in a hammock, or under the stars, I'm now quite proficient at sleeping outside.
How to train. For about four months before each attempt, I trained little bit every day. During this time, I came to appreciate the importance of incremental improvement.
I picked up a minimalist sensibility. Living with only what you can carry quickly instructs you in what's important and necessary. A small part of me still evaluates new purchases based on their weight-to-utility ratio.
How to see in the dark. To beat the heat, I learned all I could about night hiking. I can still get around in the dark pretty well.
Humility. Planning and failing to execute an ambition project gives you lessons in humility you simply can't learn anywhere else. Failing the same project twice….
Most importantly, I learned that the decisive battles that decide our fate are played out in our mind, often below our conscious awareness. Our greatest enemy is right between our ears. We are what stops us. Even the most well-conceived plans can be derailed by an undisciplined mind.
My body would've carried me to Katahdin, but my mind wouldn't allow it.
Knowing what I do now, would I have done the same?
Damn straight.
I still love long-distance hiking. Even though I failed both thru-hike attempts, I thoroughly enjoyed my time on the trail. In fact, I hope to hike a 120 mile stretch in the Shenandoah sometime this summer…all part of my plan to hike the 2181 miles in sections over the next few years.
However, I now know my limits: for me, walking in the woods is fun and rewarding for just over over a month. After that, it starts to become drudgery.
These two failed thru-hike attempts made me who I am today. I never would've learned what I learned if I didn't bother to start and fail at these ventures. My only cost was a little money, a little time, and a lot of pride.
Am I proud of what I did? Undoubtedly. Most Westerners never spend more than a week outdoors.
Do these failed thru-hike attempts hurt? Unquestionably. I wish I could've made it to Katahdin (the northern terminus), but I didn't.
However, if I hadn't started and failed two thru-hikes, I doubt I would've had the courage to do the other things I've done since. The trail pushed me so far that I had to completely redefine the boundaries of my comfort zone.
#
The ancients tell us to know thyself. I think there's no better way to get to know yourself than to set off on a project or adventure that pushes you to your physical and mental limits. If you're thinking about setting off on a grand adventure, do it and don't look back.
You may or may not fail. Either way, you'll learn and grow.
Every failure is an education.
It's time to study.
Photo: Palindrome6996