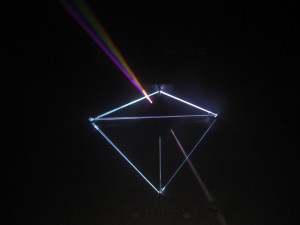 As you can see, it's been nearly a month since I updated this fine site. Why would I not post for nearly a month when every self-respecting blog guru recommends twice-weekly or better posts? Because I wanted to try an experiment. Well, the results are in.
The hypothesis was this: I would accomplish more and have less stress if I worked only on one big thing.
The conclusion: this hypothesis is bullshit.
Scores of writers, bloggers, and productivity wonks recommend focusing on one thing. All day. Every day. At one point I think even I suggested this.
The thinking goes like this: having several projects going on at once distracts your attention.  Having several simultaneous projects diffuses our creativity and energy like a laser blasted through a prism; the exiting beams all have a lower intensity. In order to maximize your productivity, put everything else aside and focus on one big thing; in our case, this one big thing is an all-consuming creative project.
On the surface, this sounds like reasonable advice.
It's true that studies show people perform poorly when they multi-task. Women are slightly better multi-taskers,  but the drop is significant for both genders.
But here's the problem: no one except the most demented of grad students has only one thing going on. Creative project or otherwise, everyone has several projects and areas of focus to attend to: employment, family, other hobbies. We're all capable of handling several things…just not all at once.
The thinking that says 'focus on one thing' should be 'focus on one thing at a time, for a given period of time. Then do something else.' For me, Happenchance wasn't my main focus, so I dropped it. Ever since, I've felt an achy gnawing in my stomach.
The multi-tasking studies I mentioned? They all refer to doing several things at one time. Not in one day.
Obviously we can't work when we're distracted with chat windows, ringing telephones, and things like that. But can you imagine spending your entire working day (life) doing just one thing? Over and over and over and over?
To me, that sounds like a quick recipe for burnout. Or one of the circles of hell.
Yes, some projects and activities are at best a waste of time (check out one important question for more on this) and at worst energy vampires. Plus, overwork is sure to cause burnout. But having a variety of things going on is good for us. Why?
Because some activities are worth doing for their inherent value.
These activities and project feed the well and enrich our lives. We do them not for money but for love. For fun. For the sheer hell of it. (see also Useless Skills).  To ignore these activities and instead focus on that one big thing is to do yourself a great disservice. Beside losing out on the enrichment value, some people will experience consternation when they're not doing the things they love. Including this boy.
Think of it this way: if you're flying a crop duster, are you better of dropping your chemicals in one spot? Or spreading them out over several acres.
Over to you:
How do you feel about working on just one thing?
Are you able to focus all day, every day on the same project?
How do your hobby projects feed your main project?
Photo Credit: wonker
If you enjoyed this fine post, please subscribe to Happenchance or follow me on twitter